Private Sunset Sailing Charter
Playa Conchal Beach, Guanacaste
Discover Guanacaste, Costa Rica's beautiful Pacific coast on a sunset catamaran sailing charter from Conchal Beach. Offering a half day trip of sun, sand, and sea, this enchanting voyage encompasses all the best sights and sounds of the tropical paradise.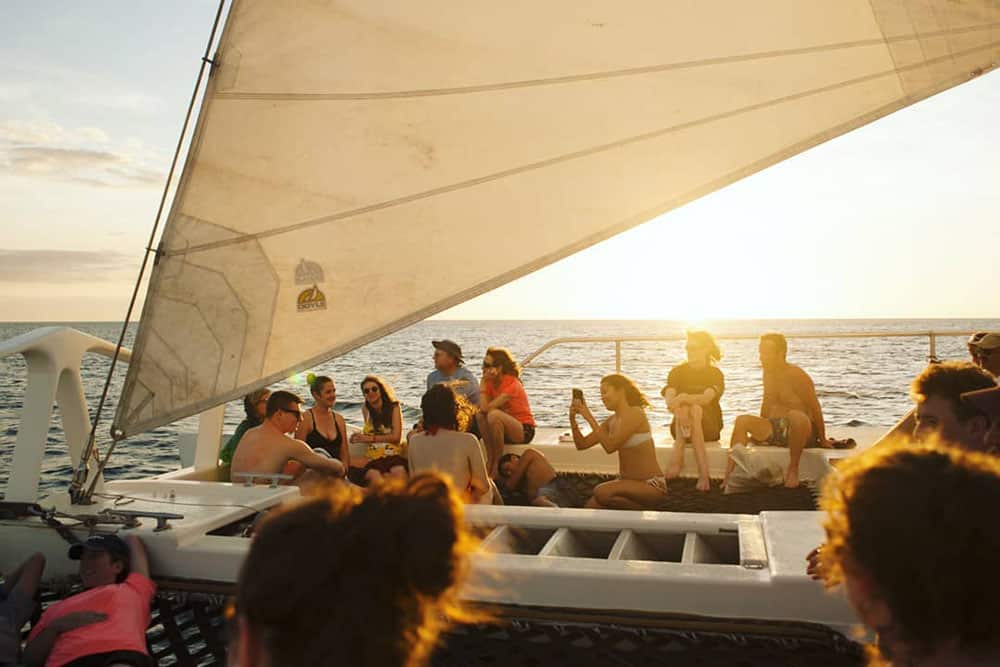 Private charter aboard a catamaran sailboat
As you board the boat and depart from the shore, you'll be able to take in spectacular views of the golden-pink hued sky as it slowly fades away over silky white sands. As you sail along the gentle waves, your friendly and knowledgeable crew will provide narration about the area's history and culture. They'll also point out some of the native wildlife that live in these waters.
Sailing, snorkeling and paddle boarding
After an hour or so of sailing, your flotilla will arrive at a secluded beach where you can disembark to explore. Spend some time snorkeling in crystal clear waters to view some of the coral reefs below while paddle boarding is also available for those who prefer a more leisurely pace. If swimming is more your thing then we have that covered too with plenty of opportunities for taking refreshing dips in warm Caribbean waters.
When hunger strikes you won't be left wanting as all trips include light snacks and an open bar with soft drinks and local beers since no sunset excursion is complete without a cool beverage by your side! And if that wasn't enough our sound system is perfectly designed to give you those 'vacation vibes' – putting you into chilled out holiday mode with just one tune!
Watch the sunset from aboard the catamaran
As night falls and stars appear above, get ready for another unforgettable experience - luminous waters glimmering off starlight as far as they eye can see...you won't forget moments like these! On board deck chairs provide comfortable seating while relaxing under blanket of stars - just watch out for marine life heading towards shore...you never know what might pass by!
Trip duration typically runs 4  hours depending on weather conditions where includes will return back to Conchal Beach at around 6 pm , right after sunset,- closing off an incredible journey that's guaranteed to leave participants with lasting memories!  So come join us today for an unforgettable sunset adventure on Guanacaste's turquoise waters aboard our catamaran charters – it'll be one amazing experience that won't soon be forgotten!