Sailing Conchal
Private catamaran sailing from beautiful Conchal Beach, in Guanacaste, Costa Rica
Visit Guanacaste and sail away with your friends and family on a private sailing charter from Conchal Beach, Guanacaste, Costa Rica! Experience the unparalleled beauty of Costa Rica from the deck of a beautiful catamaran. Our sailing charters are perfect for groups looking for a unique and memorable experience. Enjoy touring along stunning coastlines as you take in breathtaking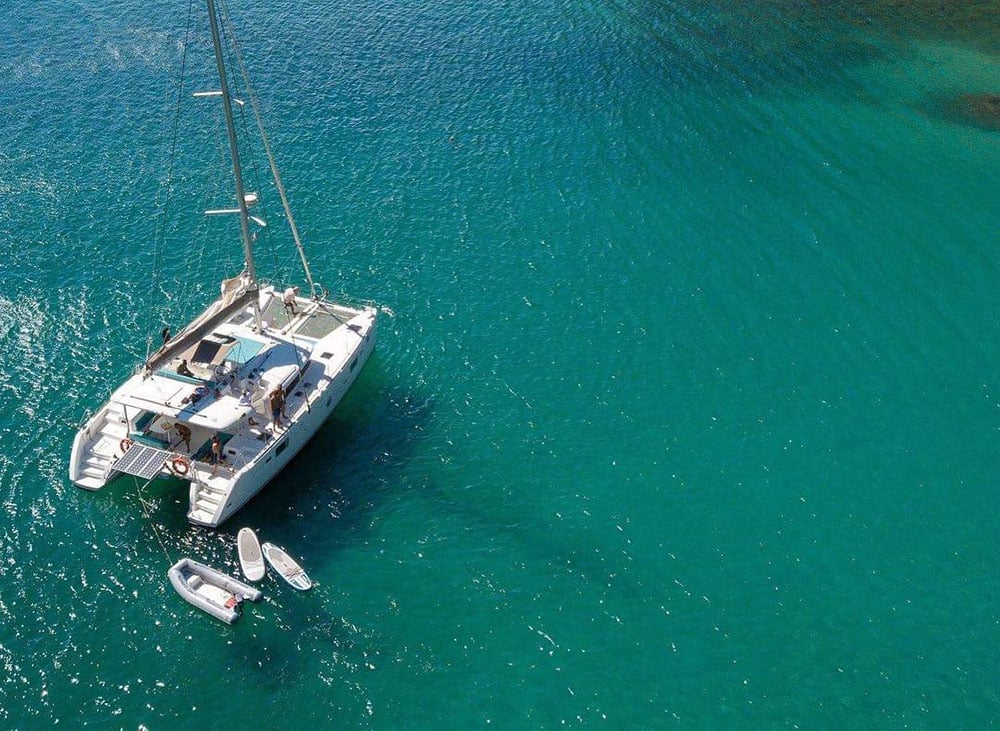 Private sailing charters with snorkeling and paddle boards
Our private trips  offer an opportunity to experience some of the best marine life that Costa Rica has to offer. Snorkelers can explore rocky reefs teeming with a wide variety of colorful fish, while paddle boarders can drift along in clear blue waters and marvel at the natural beauty that lies beneath. Swimmers can enjoy secluded beaches, a perfect spot for some peaceful rest and relaxation.

Conchal Beach, Guanacaste, Costa Rica
The former small fishing town of Conchal provides the perfect jumping off point for these private  adventures. Whether you choose a catamaran or small sailboat, your journey on the open ocean will begin here. As you make your way out on the Pacific Ocean, depending on where you decide to go, you will be able to see dolphins swimming alongside your boat and sea turtles sunbathing on the surface. The sky above is often filled with brightly colored birds soaring towards their next destination.
Catamaran sailing charters
Our private charters are available for all types of vacationers in Conchal; there are day trips for those who simply want to spend time on the water without committing to multiple days away from land and multi-day excursions for extended stays exploring some of Costa Rica's most beautiful beaches and picturesque cliffs and coves along the secluded coastline.
During a private  trip, you'll also have plenty of opportunities to take part in amazing snorkeling experiences near majestic reefs that are home to vibrant corals and all manner of sea life. From Butterfly fish to angelfish flitting through schools of parrotfish, snorkelers will be treated to a wonderful underwater world full of surprises around every corner.
Paddle boarding is another fun activity you can try during your private sailing trip from Conchal; it's easy enough for first-timers yet still offers enough challenge for those who have been riding waves since childhood! Steering yourself through crystal clear waters with nary an engine sound breaking the silence is an incredible way to take in nature's beauty up close and personal - plus it's also very good exercise too! And when you need a break from paddling, just let go and float along while looking out over one of Costa Rica's stunning beachscapes dotted with swaying palm trees and verdant hillsides beyond them.
Finally swimmers can enjoy secluded beach spots only accessible by boat - these hidden gems remain largely untouched by modern development so visitors will feel as if they have gone back in time as they wade into shallow waters that gently lap against sandy shores surrounded by mangroves or dense forests foliage adding further mystery (and protection) against prying eyes. What better place is there for taking a dip under sunny skies or indulging in romantic strolls along unspoiled beaches?
From snorkelers discovering hidden gems beneath the waves and paddle boarders floating along tranquil waterscapes to swimmers dipping their toes into secret pockets far away from civilization – our private sailing trips from Conchal provide unforgettable experiences tailored specifically according to each individual's preferences!
Private half day morning charter
Departure from Conchal or Flamingo beach. The half day morning tour departs at 8:30 and returns at 123 0 and includes drinks, open bar, light meals, snorkeling, paddle boards and visiting beautiful sites along the most pristine coast of Guanacaste. Fishing rods and music system on board included.
Departure: 8 30 am
Return: 12 30 pm
Duration: 4 hours
Conchal Private Sunset charter
The private charter from Conchal departs at 2 pm and returns after sunset, around 6 pm. A total of 4 hours of sailing along the most beautiful and rugged coastline of Guanacaste, near Conchal, to visit beaches, islets and reefs and practice snorkeling, paddle boarding and swimming in the sea. Includes open bar, light meals, fishing rods, crew service and real sailing with sails.
Departure: 2 pm
Return: 6 pm
Duration: 4 hours
Conchal Full Day Sailing charter
The private full day charter includes 8 hours of exploration of beautiful syrians near Conchal. Along the remote and pristine coastline, there are endless beautiful beaches, where you can snorkel, swim, paddle board or just relax on board the catamaran. In addition to drinks and light meals, a full lunch is included.
Departure: 10 am
Return: 6 pm
Duration: 8 hours